Are you tired of using ManageWP for your content management needs? Are you looking for better alternatives to manage and update your website or web pages? Look no further! With the growing demand for better content management systems, finding a suitable alternative is crucial.
ManageWP has its limitations and drawbacks, which have led to a need for better options. The editing interface can be clunky, and the update management process can be time-consuming. That's where alternatives like WP Monitoring, WPMU Dev and headless CMS come in. These options offer more flexibility and control over how you manage your site.
The need for headless CMS is also on the rise as it allows developers to separate the front-end from the back-end of their sites, making it easier to customize and scale their websites.
So let's dive into the world of content management systems beyond ManageWP!
Benefits of Choosing an ManageWP Alternative
More Control Over Website Management
While ManageWP is a popular choice for website management, it may not be the best fit for everyone. One of the main benefits of choosing an alternative to ManageWP is that you have more control over your website management. With other options available, you can choose a platform that aligns with your specific needs and preferences.
For example, if you prefer a more hands-on approach to website management, you may want to consider using WordPress Multisite. This platform allows you to manage multiple websites from one central location while still giving you complete control over each individual site.
Better Security and Privacy Features
Another benefit of choosing an alternative to ManageWP is that you can find platforms with better security and privacy features. While ManageWP does provide some security measures such as backups and two-factor authentication, there are other options available that offer even more protection.
For instance, UpdraftPlus provides comprehensive backup solutions along with encryption options for added security. iThemes Security Pro offers advanced security features such as malware scanning and brute force protection.
Privacy concerns are also important. If privacy is a top priority for your business or organization, then Jetpack might be a good option for you. Jetpack offers privacy-focused features such as activity logging and data protection tools.
Cost-Effective Solutions
Finally, choosing an alternative to ManageWP can save you money in the long run. While ManageWP offers many useful features, it does come with a monthly fee based on the number of websites managed.
One cost-effective solution is InfiniteWP which has no monthly fees or limits on the number of websites managed. Another option is WP Remote which offers basic website management features for free, with the option to upgrade to a paid plan for more advanced features.
iThemes Sync
iThemes Sync is another popular alternative to ManageWP. It offers a simple dashboard that makes it easy to manage multiple WordPress sites from one location. One of the standout features of iThemes Sync is its advanced security options.
The plugin includes two-factor authentication (2FA), malware scanning, file change detection, and more. These features help protect your website from hacks and other security threats.
iThemes Sync also includes a backup feature that allows you to schedule automatic backups of your site's data and files. You can also use the plugin's staging feature to test changes before implementing them on your live site.
Overall, iThemes Sync is an excellent option for those looking for a simple yet powerful tool to manage their WordPress sites.
CMS Commander
CMS Commander is a web-based platform that supports multiple platforms such as WordPress, Joomla, Drupal, Magento, and others. This makes it an ideal choice for those who manage websites across different platforms.
One of the standout features of CMS Commander is its bulk management capabilities. You can update multiple sites at once, including themes, plugins, and core updates. It also includes a backup feature that allows you to schedule automatic backups of your site's data and files.
CMS Commander also provides detailed reports on your website's performance, security, and other metrics. This information can be used to optimize your website for better performance and user experience.
Overall, CMS Commander is an excellent alternative to ManageWP for those who manage websites across different platforms.
Other Alternatives
While Jetpack by WordPress.com, iThemes Sync, and CMS Commander are all great alternatives to ManageWP, there are other options available as well. Here are some additional alternatives worth considering:
MainWP: A free plugin that allows you to manage unlimited WordPress sites from one dashboard.
InfiniteWP: A self-hosted platform that offers a simple dashboard for managing multiple websites.
WP Remote: A free tool that allows you to monitor and update multiple WordPress sites from one location.
Comparison of Features and Functionality of Alternatives
Side-by-side comparison chart
ManageWP has been the go-to solution for many website owners. However, there are several alternatives to ManageWP that offer similar or even better features and functionality.
To help you choose the best alternative for your needs, we have created a side-by-side comparison chart of some of the most popular options.
| Features | MainWP | Jetpack | WP Monitoring |
| --- | --- | --- | --- |
| Advanced features | Yes | No | Yes |
| Security features | Yes (with add-ons) | Yes | Yes (with add-ons) |
| Single dashboard for all sites | Yes | No | Yes |
| Ability to manage content from dashboard | Yes (with add-ons) | No | Yes |
| Two-factor authentication support | Yes (with add-ons) | No | Yes |
Highlighting unique selling points
When choosing an alternative to ManageWP, it's important to consider the unique selling points of each option. MainWP stands out with its ability to manage content from the dashboard while Jetpack excels in security features like malware scanning. On the other hand, InfiniteWP offers unlimited site management and customizable plans for clients.
Freemium Options: ManageWP, InfiniteWP, MainWP
If you're someone who manages multiple WordPress sites, you know how time-consuming it can be to manage them all individually. Fortunately, there are several WordPress management tools available that can make your life easier. One of the most popular options is ManageWP, but it's not the only one out there.
Free Versions Available for Basic Website Management
All three of these tools offer free versions that allow you to manage basic aspects of your WordPress sites. For example, with the free version of ManageWP, you can manage up to five WordPress sites from a single dashboard. You can perform updates on all sites at once and even schedule backups.
InfiniteWP also offers a free version that allows you to manage an unlimited number of websites from a single dashboard. However, some features are limited in the free version compared to paid plans.
MainWP has a similar approach with its free tier offering basic website management features such as updates and backups for up to 5 WordPress sites.
Paid Plans Offer More Advanced Features
If you need more advanced features than what's offered in the free versions, all three tools have paid plans available. The pricing structures vary between each tool so let's take a closer look:
ManageWP offers three different pricing tiers: Professional ($1/site/month), Business ($2/site/month), and Premium ($4/site/month). Each tier unlocks additional features such as white-label reporting or SEO ranking analysis.
InfiniteWP offers two different pricing tiers: Agency Bundle ($399/year) and Developer Bundle ($199/year). Both include access to premium add-ons like malware scans or uptime monitoring.
MainWP follows a similar model with four different pricing tiers: Blogger ($29/year), Freelancer ($49/year), Business ($99/year), and Agency ($199/year). Each tier includes a varying number of website licenses and access to premium extensions.
Comparison of Pricing Plans
When comparing the pricing plans of these three tools, it's important to consider your specific needs. For example, if you only need to manage a handful of WordPress sites, ManageWP's Professional plan may be the most cost-effective option. However, if you're managing dozens or even hundreds of sites, InfiniteWP's one-time payment model may be more appealing.
Ultimately, each tool has its own strengths and weaknesses. It's up to you to decide which one is best suited for your needs.
Performance and Optimization Tools offered by Alternatives
Speed optimization tools like caching and image compression
Website speed is a crucial factor in user experience, search engine optimization, and website ranking. Slow websites can lead to high bounce rates, decreased conversions, and poor user engagement. That's why it's essential to choose an alternative to ManageWP that offers speed optimization tools.
One such alternative is MainWP. It provides various speed optimization options like caching and image compression. With MainWP's caching feature, your website loads faster as the server stores frequently accessed data in cache memory. On the other hand, image compression reduces the size of images without affecting their quality, resulting in faster page load times.
Another excellent alternative is InfiniteWP. Its performance-boosting features include object caching, which optimizes database queries by storing frequently used data in memory. It has a built-in image optimizer that compresses images while retaining their quality.
SEO optimization options like meta tags and sitemaps
Search engine optimization (SEO) is critical for improving website visibility on search engines like Google. Meta tags provide information about a webpage's content to search engines while sitemaps help search engines crawl your site more efficiently.
MainWP offers SEO management through its Yoast SEO integration plugin that helps optimize meta tags and keywords for each page or post on your site automatically. You can also create XML sitemaps with MainWP using its Sitemap Generator extension.
InfiniteWP has an integrated SEO module that allows you to optimize meta tags and descriptions for individual pages or posts on your website quickly. Moreover, it generates XML sitemaps automatically for better indexing by search engines.
Advanced analytics tools for tracking website performance
Understanding how users interact with your website is essential for making informed decisions about improving user experience or optimizing conversion rates. Analytics tools provide insights into user behavior, traffic sources, popular pages/posts among others.
MainWP offers advanced analytics options through its Google Analytics extension, which allows you to track website traffic, user behavior, and conversion rates. You can also set up custom reports for specific metrics.
InfiniteWP has a built-in analytics module that tracks website traffic, page views, bounce rates, and other essential metrics. It also integrates with Google Analytics for more advanced tracking options.
Other Features
Apart from the above features, there are other performance and optimization tools offered by alternatives to ManageWP that you may find useful:
Uptime Monitoring: Tools like WP Monitoring and InfiniteWP offer uptime monitoring to ensure your website is always available to users.
Tasks Management: With MainWP's Task Manager extension or InfiniteWP's Client Reports feature, you can manage tasks across multiple websites from a single dashboard.
Use of Different Platforms: Alternatives like InfiniteWP allow you to manage websites built on different platforms such as WordPress or Joomla.
Template Frameworks: Some alternatives like MainWP offer template frameworks that allow you to create custom templates for your websites easily.
Visual Editors: If you prefer visual editors over coding, then MainWP has an integration with Beaver Builder that allows you to design pages visually without writing any code.
Customer Support Offered by Alternatives
Finding the right solution is crucial. ManageWP has been a popular option for many website owners, but there are good alternatives available in the market. One of the key factors to consider when choosing an alternative is customer support.
Availability of customer support channels like live chat or email support
Alternative solutions offer various customer support options such as live chat, email support, and phone calls. Some solutions even have a knowledge base with articles and videos that users can access at any time.
One example of a solution with extensive customer support options is InfiniteWP. They offer 24/7 live chat and email support, as well as a detailed knowledge base with articles and video tutorials on how to use their platform effectively.
Response time and quality of customer service provided
Apart from availability, response time and quality of customer service are also important factors to consider when choosing an alternative to Managewp. Some solutions may have limited availability but provide quick responses and high-quality assistance.
For instance, MainWP offers fast response times for their customers through their ticketing system. Their team ensures that every issue reported by customers is resolved within 24 hours.
User reviews on customer support experience
User reviews can be helpful in determining the quality of customer service provided by different alternatives. Reviews from real customers provide insights into their experiences with different platforms' customer service teams.
For example, BackupBuddy has received positive reviews regarding its quick response times and excellent technical assistance from its knowledgeable staff members.
How to Choose the Right Alternative to ManageWP
In conclusion, choosing the right alternative to ManageWP can be a daunting task. However, by considering the benefits of alternatives such as improved performance and optimization tools, better customer support, and more affordable pricing options, you can find the perfect solution for your needs.
There are several top contenders available in the market. Each option offers unique features and functionality that cater to different website management requirements.
By comparing these alternatives' features and functionality, you can determine which one is best suited for your website's specific needs. Consider freemium options like ManageWP, InfiniteWP, and MainWP if you're on a tight budget.
Lastly, don't overlook customer support when selecting an alternative. Ensure that the provider you choose offers reliable support channels such as live chat or phone support.
In summary, take your time when choosing an alternative to ManageWP. Consider all factors such as pricing options, features offered, performance tools available and customer support before making a decision.
Let's schedule a trial
Time to take action and transform the way you manage your WordPress websites! WP Monitoring offers advanced features, robust security measures, and cost-effective plans, making it an excellent alternative to ManageWP. Embrace the superior control and customization capabilities that WP Monitoring provides, ensuring that your website is always at its best. Don't let limitations hold you back. Try WP Monitoring today for a superior content management experience. We promise you won't regret it!
To get started, sign up for our free trial today. Experience firsthand how WP Monitoring can revolutionize the way you manage your sites. Step into the future of website management with WP Monitoring!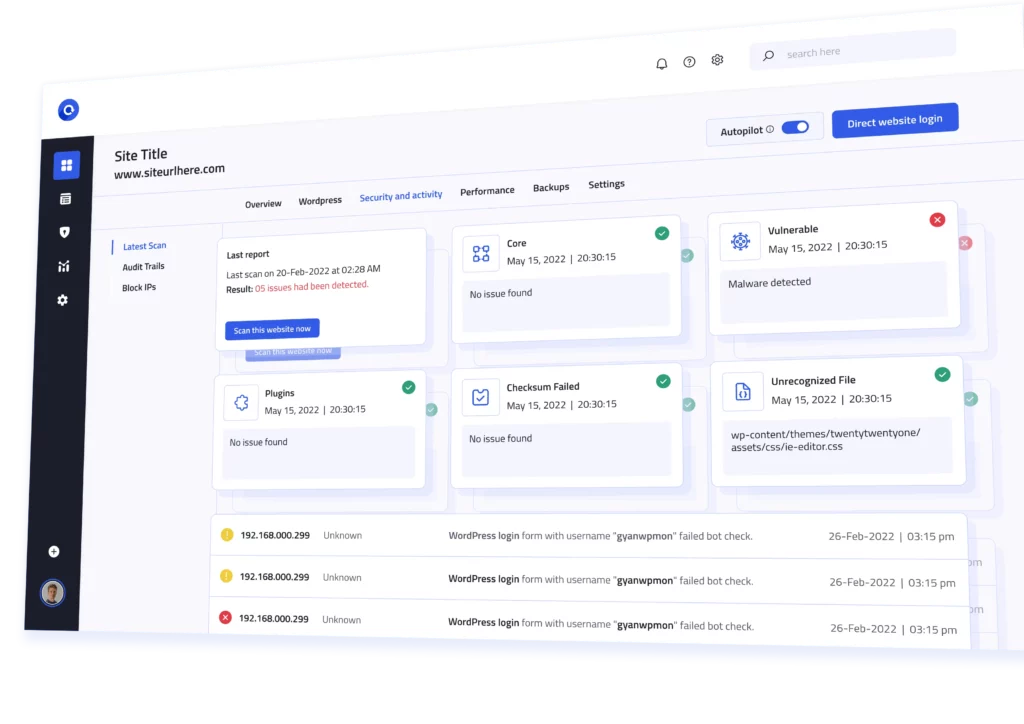 FAQs
What makes WP Monitoring a better alternative to ManageWP?
WP Monitoring provides more control over website management, superior security features, and cost-effective solutions. It's a comprehensive platform designed to address the challenges faced by website owners, providing advanced features that cater to your specific needs and preferences.
Can I manage multiple websites with WP Monitoring?
Yes, you can manage multiple websites from a single dashboard with WP Monitoring. This makes it easier to update, monitor, and manage all of your sites in one place.
How does WP Monitoring enhance the security of my websites?
WP Monitoring offers advanced security features like two-factor authentication, comprehensive backup solutions, malware scanning, and brute force protection to ensure your website is safe from various threats.
Does WP Monitoring offer a free trial?
Yes, WP Monitoring offers a free trial. This allows you to explore and experience the platform's capabilities before making a commitment.
What kind of support can I expect from WP Monitoring?
WP Monitoring offers reliable customer support channels such as live chat or email support. Our team is dedicated to providing fast and effective solutions to any issues you may encounter, ensuring a seamless website management experience.